ARENA - cover artwork and tracklist of the "Rapture" DVD revealed
The DVD titled "Rapture" was recorded in 2011, when Arena visited Poland as part of the tour promoting their new release "The Seventh Degree of Separation". The album opened a new chapter in the history of the band led since 1995 by two acclaimed musicians: Clive Nolan (Pendragon, Caamora, Shadowland) and Mick Pointer (ex-Marillion). The album was recorded with a new singer, Paul Manzi (Oliver Wakeman Band), the bassist John Jowitt, who returned to the band's line-up after a several year break, and the guitarist John Mitchell. Filmed in 2011 at Wyspiański Theatre in Katowice, Poland, the DVD features a wide cross-section of Arena's music, with material ranging from the tracks from the band's very first release (including The Visitor, Solomon, Crying For Help VII, Ascension) up to their latest songs (The Great Escape, The Seventh Degree Of Separation, Rapture, One Last Au Renoir, The Ghost Walks, What If?, Burning Down).
And today the band reveal the tracklist and cover artwork of the "Rapture" DVD.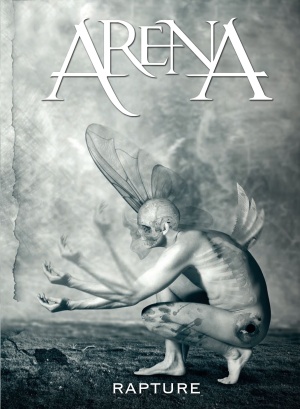 Tracklist:
01. The Great Escape
02. Crack in the Ice
03. Don't Forget to Breathe
04. City of Lanterns
05. What If?
06. One Last Au Revoir
07. Burning Down
08. Serenity
09. Valley of the Kings
10. Crying for Help IV
11. The Eyes of Lara Moon
12. Ghost in the Firewall
13. Rapture
14. The Ghost Walks
15. Bedlam Fayre
16. The Tinder Box
17. The Visitor
18. Solomon
19. Crying for Help VII
20. Ascension
The DVD also features an interview with Mick Pointer and Clive Nolan, additional "Live in Warsaw, 2011" footage, photo gallery, discography information, and desktop images!
"Rapture" DVD will be released by Metal Mind Productions on March, 25th in Europe and April, 9th in USA (via MVD). Quelle: Metal Mind Productions - Promo Dept.