LOUDNESS - verschoben!
Titel:

LOUDNESS - verschoben!

Wann:

Sa, 25. April 2020

Wo:

Tauberfrankenhalle - Lauda-Königshofen

Kategorie:
Beschreibung

LOUDNESS EUROPEAN TOUR 2020
Special Guest: Grey Attack (Germany)
Support:
HARSH (France) *
tHola (Switzerland) **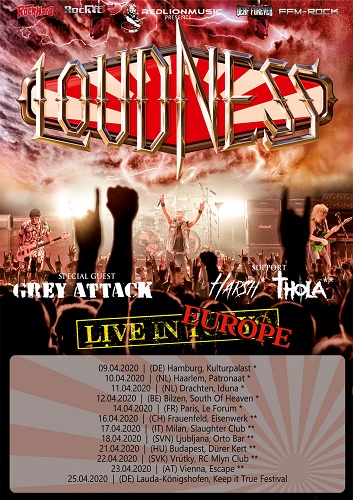 09.04.2020 DE Hamburg Kulturpalast *
10.04.2020 NL Harlem Patronaat *
11.04.2020 NL Drachten Iduna *
12.04.2020 BE Bilzen South Of Heaven *
14.04.2020 FR Paris Le Forum *
16.04.2020 CH Frauenfeld Eisenwerk **
17.04.2020 IT Milan Slaughter Club **
18.04.2020 SVN Ljubljana Orto Bar **
21.04.2020 HU Budapest Dürer Kert **
22.04.2020 SVK Vrùtky RC Mlyn Club **
23.04.2020 AT Vienna Escape **
25.04.2020 DE Lauda-Königshofen Keep it True Festival
Dear all,
it is with a very heavy heart to tell you that we are forced to postphone this upcoming Loudness EU Tour in April
For sure, everyone of you follows the daily news and also has seen the Tourposter and Routing which has been planned.
As of yet, more than 60% of the whole tour are in jeapardy due to restrictions from governments in different countries of Europe.
No one knows at this point how long it will last and with only 4 weeks to Go, we had to make a decision.
The band is on fire and have been looking forward to play, However, the circumstances in Europe right now do not allow to provide decent touring.
We definitely wish to postphone these shows and all tickets should stay valid. We just need some time to check back with all parties involved and will have a new time frame wehre we can reschedule a new tour asap when it is allowed to plan ahead again.
We are deeply sorry and we simply had no choice.

REDLIONMUSIC
---
Veranstaltungsort
Standort:

Straße:

Hauptstraße 1

Postleitzahl:

97922

Stadt:

Lauda-Königshofen

Land:
Beschreibung
Königshofen liegt ca. 30km südlich von Würzburg.
Von der A 81 kommend:
Bei der Ausfahrt Tauberbischoffsheim/Lauda die Autobahn verlassen und rechts Richtung Lauda-Königshofen abbiegen. Dem Straßenverlauf folgen, bis ihr die Ortschaft Königshofen erreicht. Die Halle befindet sich auf der linken Seite direkt an der Bundesstraße, gleich nach dem Ortsschild. Parkplätze sind neben der Halle ausreichend vorhanden.