JEFF SCOTT SOTO / AXEL RUDI PELL @ BYH!!!
Titel:

JEFF SCOTT SOTO / AXEL RUDI PELL @ BYH!!!

Wann:

Fr, 11. Juli 2014

Wo:

Messegelände Balingen - Balingen

Kategorie:
Beschreibung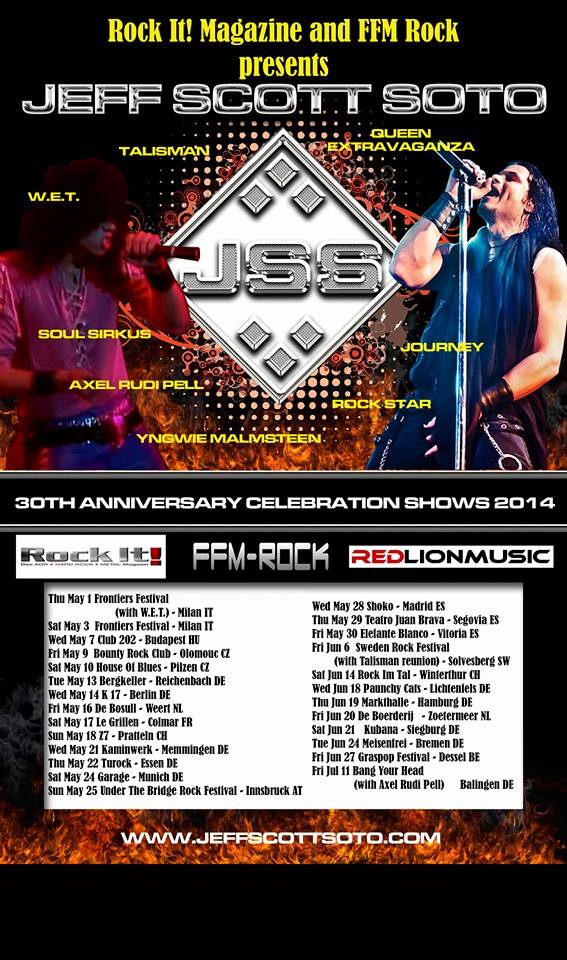 30TH ANNIVERSARY SHOWS
JSS started his career back in 1984 at the ripe age of 18 years old with the 1st international incarnation of Yngwie Malmsteen's Rising Force. This year, he celebrates 30 years of his musical path (Yngwie, Talisman, Journey, Axel Rudi Pell, Rock Star) by hitting Europe at some of the premier festivals and a selection of club dates by revisiting the favorites of his life.
Adds Jeff "The past 10 years or so I have been concentrating on my solo career but at my shows, I still get audience members shouting out songs from my past that they want to hear...well, this is the chance for them to finally hear these songs and more!".
Along with his latest line up including Jorge Salan (guitar), BJ (guitar/keys), David Z (bass) and Edu Cominato (drums), the setlist will include most of the mentioned bands that Jeff has not performed songs from live in many years. Mixed in these dates are other special appearances as listed below. Other dates are still being added but these are the ones confirmed thus far:
01.05.14 - Frontiers Festival (JSS with W.E.T.) - Milan IT
03.05.14 - Frontiers Festival - Milan IT
07.05.14 - Club 202 - Budapest HU
09.05.14 - Bounty Rock Club - Olomouc CZ
10.05.14 - House Of Blues - Pilzen CZ
13.05.14 - Bergkeller - Reichenbach DE
14.05.14 - K 17 - Berlin DE
16.05.14 - De Bosull - Weert NL
17.05.14 - Le Grillen - Colmar FR
18.05.14 - Z7 - Pratteln CH
21.05.14 - Kaminwerk - Memmingen DE
22.05.14 - Turock - Essen DE
24.05.14 - Garage - Munich DE
25.05.14 - Under The Bridge Rock Festival - Innsbruck AT
28.05.14 - Shoko - Madrid ES
29.05.14 - Teatro Juan Bravo - Segovia ES
30.05.14 - Elefante Blanco - Vitoria ES
06.06.14 - Sweden Rock Festival (JSS with Talisman) - Solvesberg SW
14.06.14 - Rock Im Tal - Winterthur CH
18.06.14 - Paunchy Cats - Lichtenfels DE
20.06.14 - De Boerderij - Zoetermeer NL
21.06.14 - Kubana - Siegburg DE
24.06.14 - Meisenfrei - Bremen DE
27.06.14 - Graspop Festival - Dessel BE
11.07.14 - Bang Your Head (JSS with Axel Rudi Pell) - Balingen DE
---
Veranstaltungsort
Standort:

Straße:

Messegelände

Postleitzahl:

72336

Stadt:

Balingen

Land:
Beschreibung